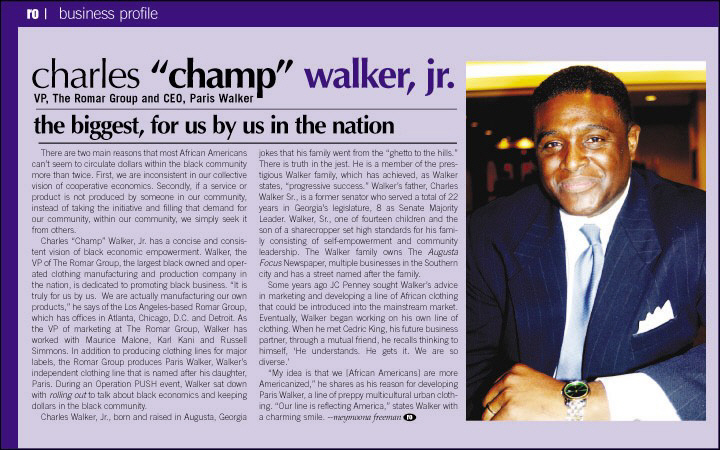 OWNER/DESIGNER: Charles "Champ" Walker
Paris Walker was created by Charles "Champ" Walker Jr., of Augusta Georgia. As a 2002 congressional nominee and one of the nations young emerging 100 leaders, he has operated one of the largest minority owned staffing firms in the southeast and served as President and C.O.O. of the Walker Group, a family owned company that has holdings in the publishing, construction, restaurant and temporary employment service industries. In addition, Mr. Walker was President of Romar Entertainment and Senior Vice President / Marketing and Business Development of Romar Studios - the largest minority owned apparel manufacturer in the United States with over 100 million dollars in revenue.
Mr. Walker has developed or have worked extensively to raise capital for, create concepts or landed deals for the foremost major accounts such as NASCAR, Motown's (Hidden Dreams collection) Ryan Kenny, Rowdy, Lisa Raye, Zen, Coca Cola, Dap Rugget (part owner) Gaina Luca (Jagged Edge's clothing label), Kelis Rogers (Cakemaker) collection, Eclectic and many other celebrities and fortune five hundred entities. While at Romar Mr. Walker grew the employee base by 50% percent and set up the only full service manufacturing, marketing/creative and entertainment firm in the U.S.
Bright Ideas
Mr. Walker is considered a visionary, has extensive experience in growing companies and oversees several companies. Currently, he is CEO of Bright Ideas and AFI Inc. As CEO of Bright Ideas he provides direction to business developers who raise money for startups and existing firms, as well as, provide idea consulting for business development and growth. Bright Ideas has ownership in several entities and has been responsible for landing over 1 billion dollars in contracts.
Mr. Walker has a unique talent in marketing slogans and concepts and ideas. He is responsible for the nationally renowned Don't Vote, Don't Complain campaign, created the slogan that captivated major retail stores "We Don't Play Polo." And brought back the popular boycott term "Don't Pay to be Disrespected." He is a popular talk show host on "the Other Side of the Story" which airs weekdays Monday through Friday on WKZK 1600 AM. In addition, he has received a prestigious marketing award for creating a mainstream commercial marketing Kia, a low price vehicle, to the hip hop market. Sales grew by 70% percent within two weeks times.
AFI, Aristocratic Fashion International, Inc., has holdings in the Paris Walker III Collection of multicultural preppy garb. Mr. Walker has used his experience in the apparel industry to create this newly formed company to serve as mega one-stop design, manufacturing and creative marketing firm - One of the only of its kind. In addition, as a minority owned company in the Apparel Industry and with Mr. Walker reputation in the entertainment fashion and political world, the company has attracted celebrity driven labels, which will greatly increase the success of AFI and its Investors.
Mr. Walker also created the new tagline "We Feel Good" which was approved unanimously by the Augusta-Richmond County, GA's Board of Commissioners on July 26th, 2005. He captured the Soul of the city and its greatest attributes being a thriving medical community that is known for its renowned research and saving lives, the Godfather's song "I Feel Good," representing Augusta music and quality of life, and the great recreational activities such as Golf, canal tours and southern hospitality that make people "Feel Good."
Some facts about Paris Walker III
Paris Walker (formerly Heritage by Paris Walker) has been sold to 13 major apparel stores chains throughout twenty five states such as Macy's, Rich's Nordstrom, Jacobson's, J.B. Whites, Mercantile Stores, Belk's, Dillard's, Chess King, Abraham & Strauss and many others.

Mr. Walker was dubbed "Hilfiger in the hood" and the "black Ralph Lauren."

Paris Walker was the first and only multi ethnic traditional sportswear line in the market to compete against companies such as Ralph Lauren, Tommy Hilfiger and Nautica.
Paris Walker owns the slogan "We Don't Play Polo"

which sent shockwaves throughout the fashion industry and caught the attention of Ralph Lauren label to the point where they called Macy's Harold

square, and

asked them to take Paris Walker out of Federated stores. Federated corporate refused to stop selling Paris Walker because they saw the enormous potential.

Paris Walker (currently named Paris Walker III) has been redefined and will be re-launched in 2008 featuring select garments including blazers, ascots, polo and woven shirts with the ethnic motifs.

Garments

will be sold exclusively on line and at select boutiques.

Copyright 2007 AskChamp.com | All rights reserved. | Site Map |

ask@askchamp.com | Security and Legal Notice